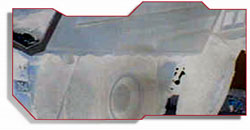 MOBILE EQUIPMENT INDUSTRY
SGA's cartridge valve manifold systems design for air suspension and leveling systems on industrial and military vehicles are designed for maximum efficiency in a compact package. The modular cartridge valve systems allow us to configure different valve polarities within the same manifold. SGA's proprietary manifold and modular valve design allows for a broad range of operating pressures ranging from 25psi to 200 psi and require no separate pilot air for actuating.
Providing The Whole Package
SGA can provide our customers with the a complete pneumatic valve solution, including our cartridge valve manifold systems, inline check valves, pneumatic rotary joints incorporated with our electrical slip-rings, and wiring harness terminated to our customers specifications.
Downloads